Ratnadeva was ordained by Kamalashila at Guhyaloka retreat centre, Spain, in the summer of 2013 .
So, the 2014 season is upon us. How's it going so far?
Well, we've got a full retreats programme, ten events, and we've also got the exciting Triratna International Retreat. This year we're collaborating with Adhisthana for the first time. It'll be fun trying out a new site, having got used to working with Taraloka, which was a delight. It's also going to be a delight working with Adhisthana because there's a sense that we're very much at the centre of Triratna when we collaborate on this event. For us it's an opportunity to get better known throughout the movement. It's kind of a shop window for Buddhafield.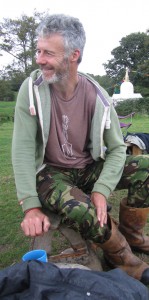 For me, one of the big flavours of the coming year is the word "change". We've got a lot changing within Buddhafield in terms of people involved and we are in the process of reorganising, so as to make the best use of the limited resources. I suppose it's a challenge and an exciting opportunity this coming year in terms of reorganising, finding a structure and a way of working that means we can put the events on that we have planned and people don't get worn out. People don't have to overdo it. And that probably means trying to involve the circles of people that are interested in Buddhafield and have been helping us over the years … I think we need to reach out more. That's one of the main themes of the coming year, find ways to reach out; tell people that we need them and provide the opportunities for the people out there to get involved. I have this sense, this image in my head, of concentric circles around Buddhafield, of different levels of involvement, it may be hundreds, it may be over a thousand of people that, at some point in the last few years have been involved, been inspired by their involvement with Buddhafield. And that's a resource, their interest in helping us, their interest in getting involved is what we need to tap into.
What is it that we need to do to keep people involved and motivated?
I think what we put on is inspiring in itself. We don't really need to go outside of that because it's already quite versatile. It's versatile from the point of view of the events themselves; you look at the range we have in any given year. We don't have a Yatra this year, but for several years now we've had a walking retreat; such a different experience to, say, the Total Immersion where we've had experienced meditators going deeper over four weeks, in silence. And then a very different event is of course the Family Friendly Village Retreat for up to 260 people, a third of them children, experiencing retreat-like conditions on a beautiful piece of land.
But having said that, there are alternative projects that might also inspire people, a bit leftfield. For example, this year we're looking at the possibility of a co-housing project. Now that is perhaps an inspiring project that might attract people who otherwise might not try a camping retreat. But essentially I think what we put on is a very attractive package. The concept of getting close to nature, spending time, if you like, with yourself in a beautiful environment, being inspired by the Buddha's teachings and having time out from your normal routine … experiencing oneself anew. I think that is in itself an incredibly inspiring prospect. And in fact I think that's the core; for me that's what inspired me to be involved with Buddhafield in the first place — an organisation that puts that sort of event on. I enjoy all the other events, like the Festival, but as far as I'm concerned they're in service to putting on retreats. I come form a background where Im trying to get more immersed in nature, because I see that as a key expression of my own spiritual life. And I think it can be a key theme within the Buddhist tradition, breaking down that sense of separateness from the natural world.
It's very related to your involvement with Druid culture?
Yes. I see it as quite seamless in fact. I think that immersing in nature can teach so much about impermanence. If you walk out on a bed of autumn leaf litter, and if you're really aware when you're doing that, that can be a lesson in impermanence. Better than any books about impermanence. If you're involved with setting up a forest garden, or really into connecting with trees, even if its on a mystical level, that can teach us so much about interconnectedness, which is not that far away from non-self. The book of nature is so central to Buddhist teaching. For a lot of Buddhists who live in urban or sub-urban environments it's not so much the case and I do think that's a problem. And that is what Buddhafield is offering par excellence: offering people in those sorts of situations to escape and find a connection with nature that they don't normally get, even if it's only for a week.