Buddhafield Chair, Jayaraja, gives a review of his 2016 Buddhafield season

18 December 2016
The trees bare except for a solitary leaf, perhaps reluctant to let go, the rest fallen and turning to mulch, I sit in an oak wood in the border lands of England and Wales. It is three days until the solstice and I have some time alone, to be still, to reflect and to wonder. More vivid than many, the seasons this year have been rich and colourful.
Winter
Visit to Frog Mill
On a Buddhafield men's study week we take a day out to visit Frog Mill where we are joined by Mike, Rupadarshin and Beth. The flooding had washed the bank away, the river now strewn with fallen trees. Fortunately, the bridge, which had been lifted from its site was wedged close by. Working together we heaved the bridge back into place. We cleared some areas of the wood, dragged the carcasses of substantial tree trunks out of the water and stacked them to dry, ready to heat the hot tubs and showers in the summer.
Work week
Sleet blew fiercely as a small crew worked in a dilapidated old barn mending canvases, and preparing new ones. The wind was whistling under the tin roof and rattling the huge barn door wedge closed with heavy rocks. I felt a tad guilty as the hardy team got on with their work I was passing through on my way to a planning meeting. Though a few weeks later I was in the fields by the barn as we setup a make shift camp for the winter work week. I was impressed by the number of volunteers who ventured from the warmth of their homes or vans to join us, cleaning kit, waterproofing tents, painting vans, and repairing the horsebox sauna our mobile hot water unit.
Team Retreat
The team retreat at Frog Mill, with ice still on the tents in the morning, was a mix of training, planning, land work and just gathering the clan, as well as welcoming new crew, to prepare for the months ahead. We built up the banks by the bridge, weaving willow into them for strength and to hopefully avoid losing the bridge in future floods. More wood was fetched, cut and stacked, repairs to the domes and training in how to put them up. We had a day's training on food hygiene and safety, our professional trainer excited to be in a field, having spent 20+ years in the military, more commonly he was in restaurants and corporate settings.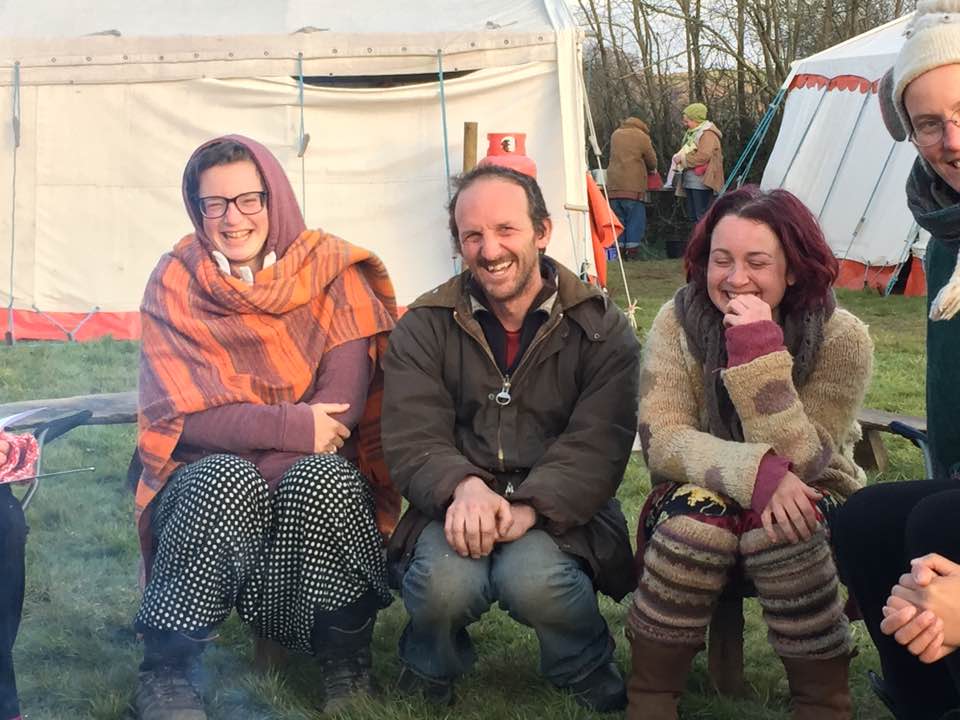 Team Retreat at the start of 2016
Spring
Yatra sacred landscape walking retreat
We met by Southampton train station, loaded our bags into the freshly painted (though frankly still quite battered) van affectionately known as Peggy. We walked down to the harbour and caught a ferry over the estuary to Hythe, and began our walk through the New Forest. Each day we would walk between 10 and 16 miles. Meantime the team drove ahead with our kit and set up a kitchen and toilet facilities. On the first day of walking the forest was still in its bare winter guise. Each day as we progressed, the buds on the trees and the bluebells opened a little more. We walked in silence stopping every hour or so where we formally ended the session and sat enjoying conversation, quiet reflection or the beauty of the land. After a few days, I noticed my relation to the land changed and I felt more a part of it, part of life on earth, not separate from it and a kinship with our ancestors who have walked this planet and heard in their hearts a sense of mystery and awe. I felt connected to the refugees walking to escape the horrors of war. I felt a sweet sadness imagining them with children and the elderly and little of the comforts we enjoyed, like suitable clothes, footwear and warm food waiting for them. We walked the ancient paths to Stonehenge and then on to Avebury stones. By now the buds had become fresh green leaves. On the final morning, as we gathered in our traditional circle amid the stones to check out, two buzzards soared above and were soon replaced with a paraglider who came to land right next to us.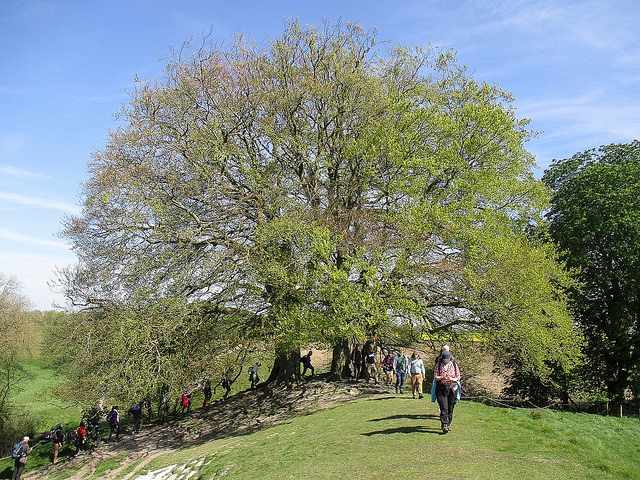 Silent walking on the Sacred Landscape Yatra, under majestic trees



Total Immersion
There was a short break after the Yatra as we set up for the Total Immersion retreat, a month-long silent retreat and one of the highlights of the Buddhafield season. In amongst the trees at Easterbrook we sat in meditation, or sat in silence watching the trees and stars. We held rituals in the woods. The teaching from Kamalashila and his team was excellent. It is hard to find words for the beauty and richness of quiet mind.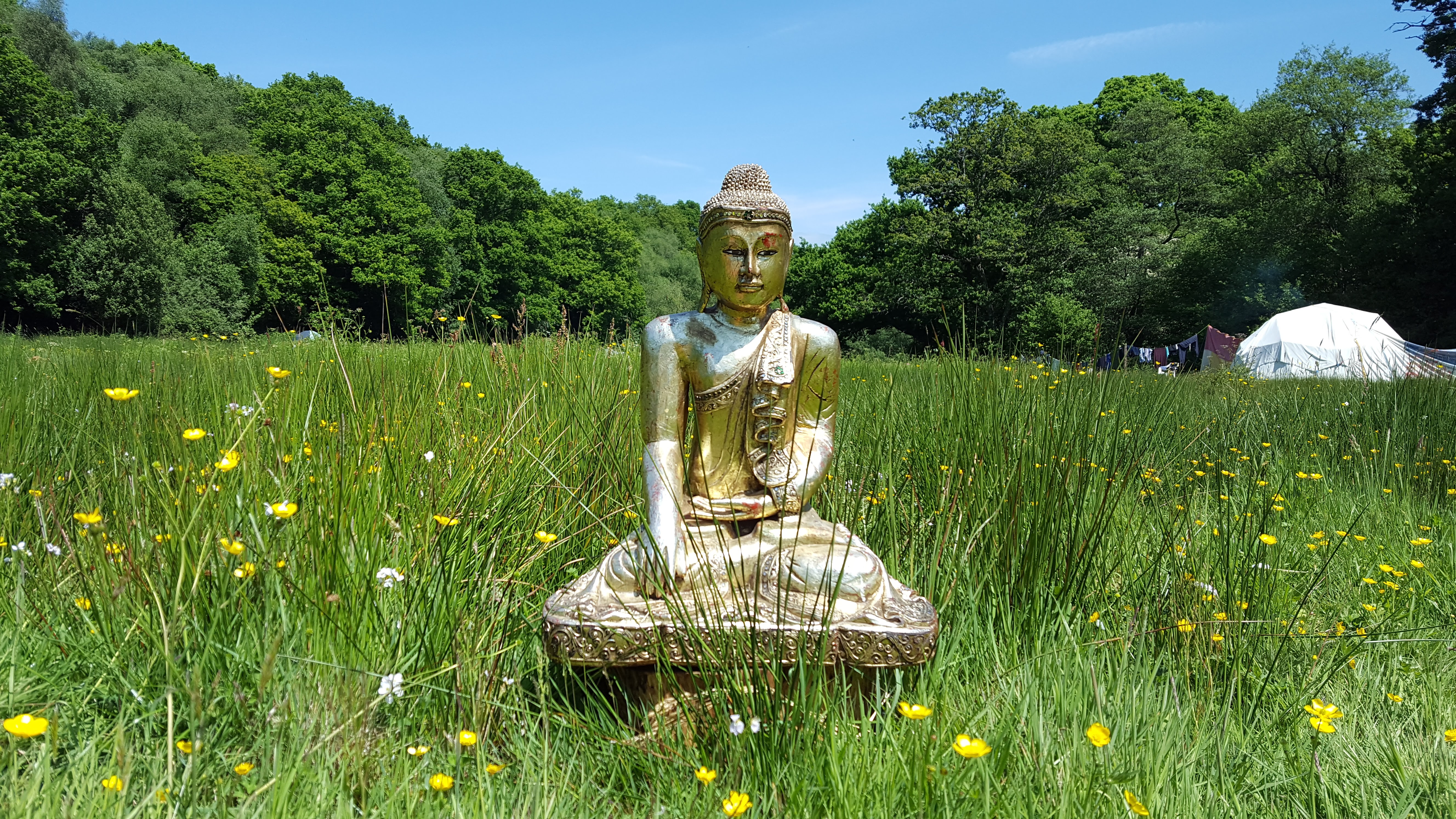 The Buddha rupa in the field at Total Immersion 2016
Summer
Glastonbury Festival
I had never been to Glastonbury festival before. Much as I love the Buddhafield festival I didn't imagine Glastonbury was my kind of thing. Two hundred thousand people in muddy fields: yes it was muddy, the worst on record some say. I was going as it is part of Buddhafield's main activities. We have been there for over twenty years, teaching mediation and serving vegan food. It did make me think our modest festival of 3,500 is a small undertaking. Whilst there, deprived of sleep, we managed to serve around a thousand meals a day and taught some four to five hundred people to meditate in our cramped space. I recall seeing people with tears in their eyes after meditating and expressing their gratitude.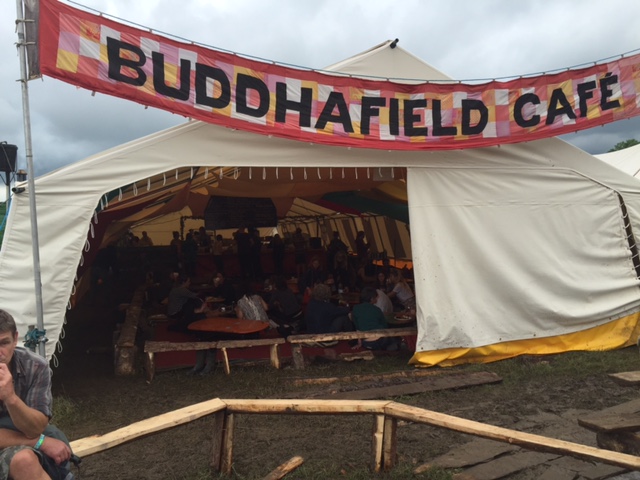 Buddhafield Cafe at a muddy Glastonbury 2016

Buddhafield Festival
From Glastonbury we drove to our own festival site, green fields and a good night's sleep. In the morning, having packed the tents away wet we had to immediately get them up again to dry. Two weeks before the Buddhafield festival we were a dozen people most recovering from the challenges of Glastonbury. Gradually more crew and volunteers arrived. Each evening we would have an activity, a couple of short talks on the values that had brought people to these fields, perhaps meditation or a ritual or sitting around the fire singing and talking. This year's festival was one of my favourites, the site looked fabulous, the music was great and I loved having so many people come to my workshops both Mindful Communication and Skilful Flirting, I look forward to 2017.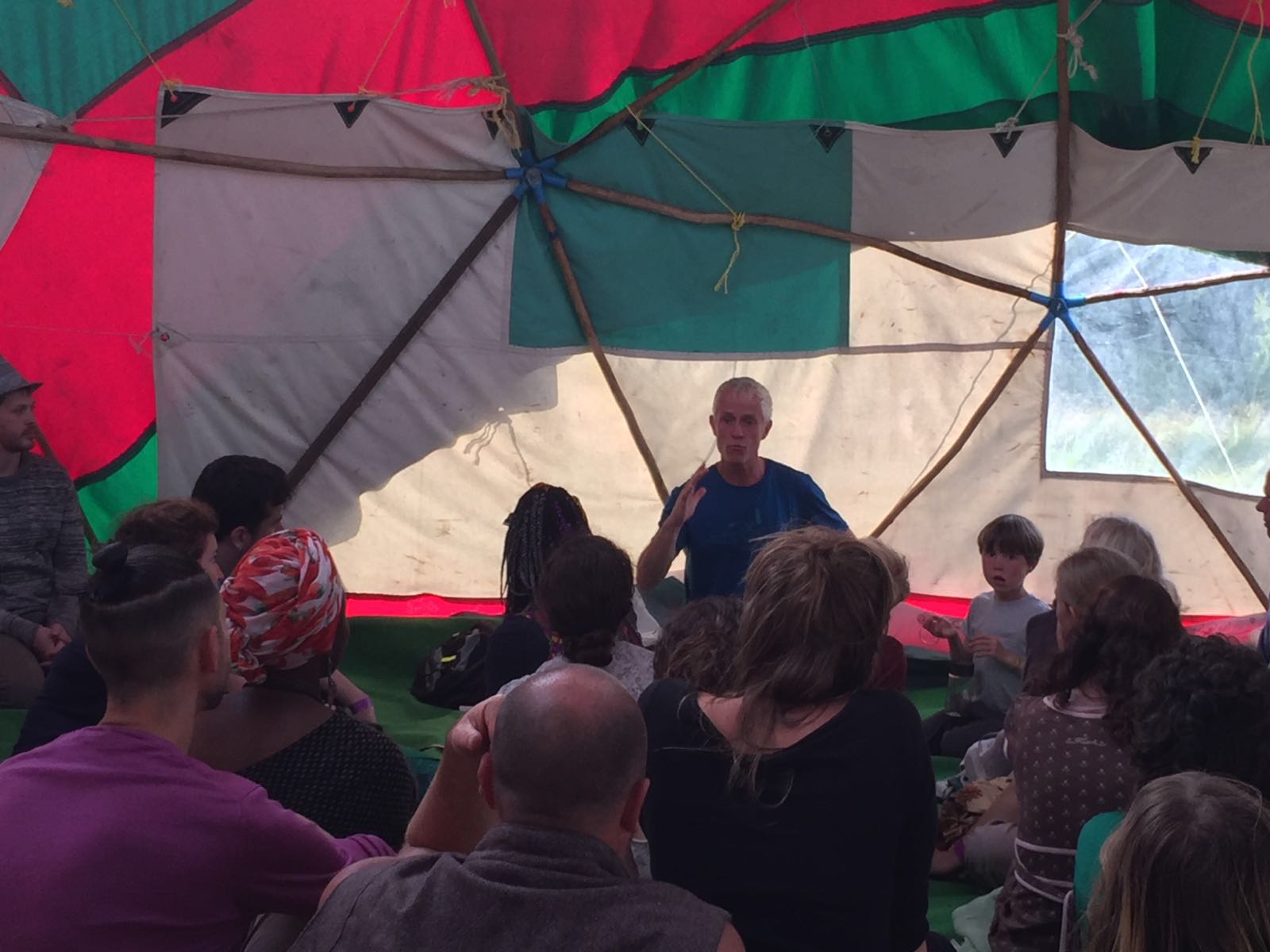 Jayaraja (and Ellis, aged 7 and a half) leading a Mindful Communication workshop at Buddhafield Festival
Autumn
Green Earth Awakening
I was away in August, so missed the Village retreats and the Summer Open. I returned for the Green Earth Awakening Camp. It was magnificent to once again be in a field with a team of people creating something of significance and beauty. Feeling the wind and hearing the trees standing beneath the stars. Wow, what an event! I was responsible for the rituals and was supported by Ruth who helped create a magical central shrine. The Green Earth Awakening is all my favourite bits from the festival brought together. Lots of spontaneous and interesting conversations, brilliant workshops, play, singing, dancing, discussion, idealism and crafts. If I had to pick a moment from the year, it was doing the main ritual on the Friday night, in a large circle, we danced, we chanted mantra, made offerings and we watched in awe as a beautiful full moon rose through the trees. Once again I felt a kinship with the ancestors as we try and rekindle a sense of the sacred, a deep sense of connection and reverence for life.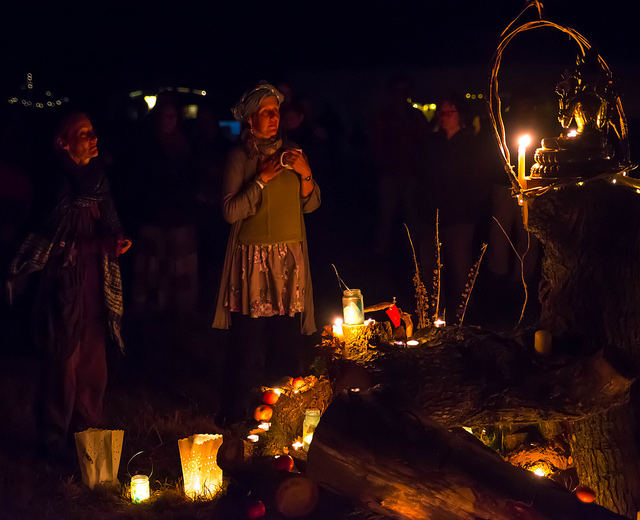 Shrine at Green Earth Awakening Camp
***********************
After three years of wandering I have now moved into a house, a modest rented place in Devon, to help establish a new Buddhafield community. The vision is to create a strong base to enable us to do more and to also go deeper in our own work and transformation, to live more fully with respect for each other, and the planet.
2016 may not go down as a great year for humanity or the planet, the loss of great artists and performers, atrocities in Syria and further afield, the election of a demagogue in America and continuing exploitation of the earth's resources. I am reminded of lines from Auden's poem September 1939:
All I have is a voice
To undo the folded lie,
The romantic lie in the brain
Of the sensual man-in-the-street
And the lie of Authority
Whose buildings grope the sky:
There is no such thing as the State
And no one exists alone;
Hunger allows no choice
To the citizen or the police;
We must love one another or die.
Defenseless under the night
Our world in stupor lies;
Yet, dotted everywhere,
Ironic points of light
Flash out wherever the Just
Exchange their messages:
May I, composed like them
Of Eros and of dust,
Beleaguered by the same
Negation and despair,
Show an affirming flame.
May your life be blessed with friendship, meaning and love. May you heart unfold to its great potential. May I see you in a field in 2017, and may we cultivate the roots and buds of transformation both of ourselves and this suffering world.
Metta
Jayaraja
Buddhafield Retreats and Green Earth Awakening Camp are open for booking for 2017